Amid Global Covid-19 Concerns, Saudi Authorities Advocate Mask-Wearing for Umrah Pilgrims In the wake of mounting worries about the global Covid-19 situation, Saudi Arabia has taken a proactive step by advising Umrah pilgrims to prioritize wearing face masks when visiting the holy sites. This guidance comes as reports of a new variant of the coronavirus
Amid Global Covid-19 Concerns, Saudi Authorities Advocate Mask-Wearing for Umrah Pilgrims
In the wake of mounting worries about the global Covid-19 situation, Saudi Arabia has taken a proactive step by advising Umrah pilgrims to prioritize wearing face masks when visiting the holy sites. This guidance comes as reports of a new variant of the coronavirus continue to emerge from various parts of the world.
The World Health Organization (WHO) recently raised an alarm regarding a new strain of the coronavirus, adding to the urgency of preventative measures. The global count of new Covid-19 cases witnessed a staggering increase of approximately 80%, soaring to around 1.5 million cases from July 10th to August 6th, as compared to the previous 28-day period.
Referred to as EG.5 or Eris, this sublineage of the omicron variant has been detected in over 51 countries, including major nations such as the United States, China, South Korea, and Japan.
Amid these events, Saudi security advises Umrah pilgrims to prioritize mask-wearing, ensuring safety during their visits. The directive stresses safeguarding personal health and fellow pilgrims, considering the local community's well-being in Saudi Arabia.
The Saudi public security authority issued an official statement on social media, stating, "Wearing a mask in the Two Holy Mosques, in Makkah and Madinah and their surrounding areas, protects you and others from disease infection."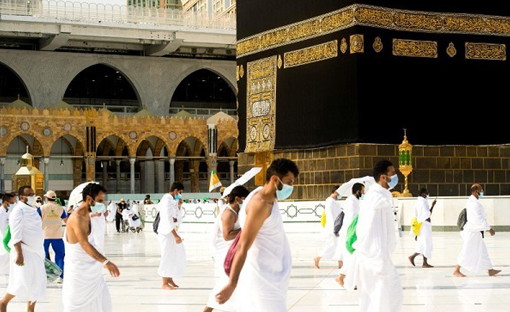 WHO's Tedros Adhanom Ghebreyesus acknowledges tracking new variant and expresses concern over potential dangerous strain emergence. He called for sustained vigilance against the virus and urged countries to continue reporting Covid-19 data.
While the global situation has witnessed a decline in reported cases, hospitalizations, and deaths due to increased immunity and improved clinical care, the threat of Covid-19 persists.
Amid the pandemic, vigilance, prevention, and collective efforts are crucial in battling Covid-19's ever-changing challenges and unpredictability.